About Us
104 Glen Osmond rd Parkside SA is where you will find Rice Chinese Cuisine. Our wide range of Chinese and Asian menu includes Entree, Soup, Chicken, Duck, Beef, Pork, Lamb, Seafood, Vegetarian, Rice and Noodles, and Drinks. Some of our popular dishes to choose from are Sliced Hock, Spring Roll, Shredded Roasted Duck Soup, Cashew Nut Chicken and many more. We deliver anytime to Adelaide, Dulwich, Eastwood, Frewville, Fullarton, Glen Osmond, Goodwood, Hyde Park, Kent Town, Norwood, Parkside, Unley & Wayville. Click on the Order Online button now to view more of our full list of menu and have your food delivered or picked up at your most convenient time.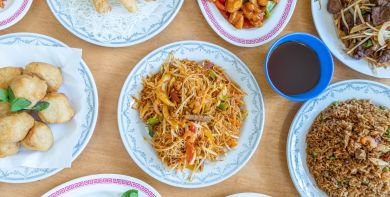 Reviews
afc
"Salt and pepper squid was soggy, but all else was very good."
Anthony
"The food is always fresh and delivered on time. Portion sizes could be a bit better as lite on when compared to some other restaurants."
We deliver to
5000 Adelaide, 5007 Brompton, 5007 Hindmarsh, 5008 Croydon Park, 5009 Allenby Gardens, 5009 Beverley, 5025 Flinders Park, 5031 Mile End, 5031 Mile End South, 5031 Thebarton, 5031 Torrensville, 5033 Cowandilla, 5033 Hilton, 5033 Marleston, 5033 Richmond, 5033 West Richmond, 5034 Clarence Park, 5034 Goodwood, 5034 Kings Park, 5034 Millswood, 5034 Wayville, 5035 Ashford, 5035 Black Forest, 5035 Everard Park, 5035 Forestville, 5035 Keswick, 5035 Keswick Terminal, 5037 Glandore, 5037 Kurralta Park, 5038 Camden Park, 5039 Clarence Gardens, 5041 Cumberland Park, 5041 Westbourne Park, 5043 Ascot Park, 5043 Mitchell Park, 5043 Morphettville, 5043 Park Holme, 5044 Glengowrie, 5045 Glenelg, 5045 Glenelg East, 5045 Glenelg North, 5045 Glenelg South, 5046 Oaklands Park, 5046 Warradale, 5061 Hyde Park, 5061 Malvern, 5061 Unley, 5061 Unley Park, 5062 Clapham, 5062 Hawthorn, 5062 Kingswood, 5062 Lower Mitcham, 5062 Mitcham, 5062 Netherby, 5062 Springfield, 5062 Torrens Park, 5063 Eastwood, 5063 Frewville, 5063 Fullarton, 5063 Highgate, 5063 Parkside, 5064 Glen Osmond, 5064 Glenunga, 5064 Mount Osmond, 5064 Myrtle Bank, 5064 St Georges, 5064 Urrbrae, 5065 Dulwich, 5065 Glenside, 5065 Linden Park, 5065 Toorak Gardens, 5065 Tusmore, 5066 Beaumont, 5066 Burnside, 5066 Erindale, 5066 Hazelwood Park, 5066 Stonyfell, 5067 Beulah Park, 5067 Kent Town, 5067 Norwood, 5067 Rose Park, 5068 Heathpool, 5068 Kensington, 5068 Kensington Gardens, 5068 Kensington Park, 5068 Leabrook, 5068 Marryatville, 5068 Trinity Gardens, 5069 College Park, 5069 Evandale, 5069 Hackney, 5069 Maylands, 5069 St Peters, 5069 Stepney, 5070 Joslin, 5070 Payneham South, 5074 Newton, 5075 Paradise, 5081 Gilberton, 5081 Medindie, 5081 Medindie Gardens, 5082 Ovingham, 5082 Thorngate, 5083 Broadview, 5083 Nailsworth, 5083 Sefton Park, 5085 Clearview, 5085 Enfield, 5085 Northfield, 5085 Northgate, 5086 Greenacres, 5086 Hillcrest, 5086 Manningham, 5087 Klemzig, 5087 Windsor Gardens